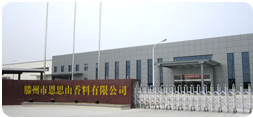 Tengzhou Everbright Aroma Chemicals Co.,Ltd. Was established in 2010, a rapidly growing manufacturer of chemical aromas. The company has now developed into a leading manufacturer of hetero-cyclic and sulfur aroma compounds in China and a reliable supplier for many flavor and fragrance enterprises at home and abroad.
We have dedicated our efforts to improving our technology and product range to satisfy the growing demands from our customers and also have received very positive feedback from our customers .
Everbright Products, Brighten people's life.

......
| | | | | |
| --- | --- | --- | --- | --- |
| Item No. | Products | CAS.No. | FEMA.No. | |
| EP001 | 2-Acetyl Pyrazine | 22047-25-2 | 4015 | Show |
| EP002 | 2-Methyl Pyrazine | 109-08-0 | 3309 | Show |
| EP003 | 2,3-Dimethyl pyrazine | 5910-89-4 | 3271 | Show |
| EP004 | 2,5-Dimethyl Pyrazine | 123-32-0 | 3272 | Show |
| EP005 | 2,6-Dimethyl Pyrazine | 108-50-9 | 3273 | Show |
| EP006 | 2,3,5-Trimethyl Pyrazine | 14667-55-1 | 3244 | Show |
| EP007 | 2,3,5,6-Tetramethyl Pyrazine | 1124-11-4 | 3237 | Show |
| EP008 | 2-Methoxy-3(5/6)-Methyl Pyrazine | 2847-30-5 | 3281 | Show |
| EP009 | 2-Methylthio-3(5/6)-Methyl Pyrazine | 2882-20-4 | 3136 | Show |
| EP010 | 2-Ethyl-3-methylpyrazine | 15707-23-0 | 3155 | Show |
| EP011 | 2,3- two ethyl -5- methyl pyrazine | 18138-04-0 | 3336 | Show |
| EP012 | 2-Ethyl-5-Methyl Pyrazine | 13360-64-0 | 3154 | Show |
| EP013 | 2-Ethyl-3(5/6)-Dimethyl Pyrazine | 13925-07-0 | 3149 | Show |
| EP016 | 2- methyl -3- methoxy pyrazine | 2847-30-5 | 3183 | Show |